THERON AFRICA SAFARIS Pty Ltd. SINCE 1999.
For the past 18 years we have been conducting both Rifle and Bow Hunting
as well as Photographic Safaris, in Southern Africa.
---
Useful information/requirements when visiting South Africa
All possible precautions are taken to protect you against accidents.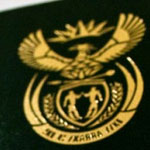 While all possible precautions are taken to protect you against accidents, sickness or any other loss, no liability can be accepted in these regards. You are therefore required to arrange your own personal, travel, hunting and medical insurance.
Please consult your health care practitioner to get a Malaria prophylaxis before visiting.
While most of South Africa is malaria-free, visitors to the northern parts near the Zimbabwean border as well as the Lowveld towards Mozambique are advised to take a malarial prophylaxis at least a week before entering these areas.
Preventing mosquito bites, by staying indoors between dusk and dawn and wearing long sleeve clothing and trousers, is the most effective way to prevent malaria.
Documentation Required
passport
gun documentation See Importation of Fire Arms
medical documentation See Packing List
credit cards, travelers' cheques, cash (South African Rand)
business cards
air tickets & your travel agent's contact details
travel insurance (usually arranged by your travel agent)
address & contact details for your outfitter/PH in Africa
Copyright Theron African Safaris - A Design Media Production

FacebookHome Hunting Safaris Photographic Safaris Mail About
Or, you choose a white dial with very elegant hour markers. There is also a
rolex replica sale
with a pink mother-of-pearl face.
rolex replica sale
in the Longines Dolce Vita comes with subdial for the seconds at 6 o'clock position. The case of the
replica watches uk
is stainless - although one model does offer a gold case with matching gold strap. All
rolex replica sale
come with scratch-resistant, sapphire crystal and are water resistant to a depth of 30 meters. The strap of the
rolex replica
a linked stainless steel strap or a lacquered leather strap in black or white - the white strap combined with the simple white face and diamond adorned stainless steel case is particular feminine. For those who want a
rolex replica
that combines sleek contemporary lines with a timeless glamour, the Longines DolceVita is a perfect choice.